Sports Medicine
Carnoustie Sports medicine deals with physical fitness and the treatment of injuries related to sports and exercise along with training of mind which focus on mindfulness, building confidence and concentration.  As function it's not only curative and rehabilitative, but also preventive.
Carnoustie Sports Medicine focuses on:
Holistic treatments to minor and major sports injuries and ailments with an amalgamation of ancient science of Marma, Kalari, Ayurveda and Yoga
Alternative medical techniques to enhance mental and physical strength, heal injuries or orthopaedic problems
Psychological aspects to build an athlete's confidence for optimum performance through counselling, meditation and advanced yogic techniques
Marma, Kalari and other ancient Indian techniques and martial arts to increase flexibility and endurance
Special Ayurveda Medicines, Treatments and Diet curated for specific needs of a Sportsmen
Enquire Now
Common Sports Injuries
Sports injuries are injuries that occur when engaging in sports or exercise. They can occur due to overtraining, lack of conditioning and improper technique. It can be acute in case of sudden jerk or chronic when it occurs due to prolonged wear and tear of the body parts.
Here are few common sports injuries:
Sprains
Strains
ACL Tears
Dislocations
Fractures
Muscle pain
Swelling
Shoulder Injuries
Arm & Elbow
Knee Injuries
Thumb & Wrist
Ankle & Foot Injuries
Shin splints
Plantar fasciitis
Tennis elbow
Low back pain
Hip bursitis
Achilles tendonitis
Ailment Treated
Motor Neuron Disease
Cervical Spondylosis
Radiculopathy
Periarthritis
Ankylosing Spondylosis
Hemiplegia
Muscular Dystrophy
Carpel Tunnel Syndrome
Trigeminal Neuralgia
I.V.D.P.
Scoliosis
Haemorrhoids
Fistula
TAO
Bells Palsy
Sciatica
Degenerative Diseases
G.B. Syndrome
Rheumatic Fever
SLE Diabetic Neuropathy
Soft tissue injuries of sports persons
Plantar Fascitis
Tennis and Golfers elbow
Fracture management
Renal failure
Multiple sclerosis
Transverse Myelitis
Syringomyelia
Post conditions of sports injuries
Frozen shoulder
Parkinsonism
Sports & the Mind
Self-confidence can give an average athlete or team the courage and focus to defeat a stronger opponent. Likewise, lacking self-confidence, an athlete or team will consistently perform way below their potential. Low self-confidence can kill an athlete's enjoyment of the sport and turn him/her into a dropout statistic.
Here are few common issues faced:
Lack of confidence
Coping with injury
Depression
Conflict resolution
Energy regulation
Focus
Motivation
Mindfulness
Ayurveda & Sports Medicine
Ayurveda is the science of life, which act as both preventive and curative side. Ayurveda offers exceptional solutions to the injured sports person that will not only save their career as a sports person but will also give long term benefits to them. Ayurveda can be the principal therapy or supportive therapy to treat various orthopedic problems encountered by sports persons.
There are different types of treatment available in Ayurveda for sports injuries:
THE MIND (MENTAL STRENGTH)
BODY (PHYSICAL STRENGTH)
INJURY (TREATING THE INJURIES)
The Mind
For a sportsmen, mental stability and concentration is the first and foremost thing. Ayurveda indicates Shiv Yoga and Meditation for attaining High Concentration and Willpower.
Marma, Kallari, Ayurveda and Yoga
for Self Confidence and Mindfulness
Ancient Indian techniques of Marma, Kallari, Ayurveda and Yoga can help in dealing with low confidence, past issues and self esteem, as well as with positive life transformation and rebuilding a sports career.
Psychological readiness is the key for success of an athlete - the aspect of honest self-awareness is crucial. Without self-awareness, you cannot understand your strengths and weakness, your super powers versus your kryptonite.
Athletes who can become honestly self-aware of their strengths and weaknesses can develop their ability to be consistent and ultimately control performance.
Shiv Yoga
Mantras create a positive, friendly and a healing effect. In Ayurveda, apart from herbal remedies, mantra recitation also to enhance the healing.
When mantras are chanted, sound energy is generated and the vibration of that energy is diffused distributed into the nervous system by nadis through six major chakras situated along the length of the spinal cord and a seventh at the crown of the head.
These chakras can be co-related to the plexuses of the modern physiology. When energy passes from the nadis to these plexuses of the physical nervous system, it turns neural and is passed on to the nervous which in turn obey the brain and then circulated throughout the body through blood. So that each cell of our body get oxygenated and the body get high energy.
Meditation
Meditation is relaxation. It is not about concentration, it is actually about de concentration. It is not about focusing ones thoughts on one thing, but instead on becoming thoughtless.
With the help of meditation, the physiology undergoes a change and every cell in the body is filled with energy, this results in joy, peace and enthusiasm.
Five benefits of meditation for sports men:
Greater confidence
More focus and clarity
Better health
More mental strength and energy
Greater dynamism
The Body (Physical Strength)
Physical strength is an important factor for a sportsmen. Ayurveda provides both internal and external therapies to give maximum benefit to the patient.
Few of the most popular techniques includes:
Ayurveda Medicine
Marma
Kalaripayattu
Ayurveda Medicine
In any heavy work person needs instant energy. In ancient times warriors used some herbs to enhance their stamina. There are hundreds of classical drugs available to improve the circulation and enhance the energy level in the body. A sports person can consume these as a sports drink
To enhance strength and stamina naturally.
Acharya Charaka in his literature has explained some group of herbs which can be used by sportsmen.
Brihmaneeya dasaimani (Muscle builder)
Jeevaneeya dasaimani (Vitaliser)
Balakara dasaimani (Promotes Strength)
Sramahara Dasaimani (Promotes Cheer)
Marma
Marmas are vital points in the body. They are 107 in number and have great importance in the treatment of sports injuries. Each marma has their own function and they are connected with each system of our body. So that any injury or trauma can be rectified by the stimulation of corresponding marma.
Marma chikitsa may be taken as synonym of traumatology.  In India trauma and its management is reported from Vedic period.  These marmas are often located at junction points, where two or more types of tissue meet such as muscles, nerves, tendons, joints ligaments and bones.
In sports injury, these points get obstructed, which result in pain, muscle stiffness, sprain, discomfort etc. This is cleared by a very particular way and a specific technique is used for each point.
Kalaripayattu
Kalaripayattu is one of the oldest living tradition of the world having its roots in the Dhanurveda, the ancient Indian science of warfare. Martial training and self-disciplining through a ritualistic and spiritual process of learning and is synthesized in the kalaripayattu tradition that found its roots in Kerala.
Kalaripayattu training aims at the ultimate co-ordination of the mind and body which is highly recommended for sports men.
The Kalari massage are of two types:
Ilakkithirummu - a strong massage for arms & legs
Chavittithirummu - a powerful massage by foot
Ayurveda treatment for Sportsmen
The main aim of Ayurveda is to maintain the health of a healthy person and help to maintain the health of a diseased person which is very much essential for an athlete.
Special Ayurveda Treatments for Sportsmen
Kizhi
Kizhi is a treatment used in the management of various pain related condition affecting the musculoskeletal and neuromuscular system. It often combined with the massage to increase the pain relieving benefits.
It specially recommended for
It specially recommended for
Acute and chronic pain
Joint pain
Muscle and joint stiffness
Arthritis
Repetitive strain injuries
Greeva basti
The same procedure like kati basti, the only different is the location. Greeva is neck, so the mentioned procedure on neck.
It specially recommended for
Pain and stiffness on neck, shoulder and upper back
Headache caused by poor posture or stress
Frozen shoulders

Kati basti

Kati basti is a warm herbal oil treatment that is used to improve circulation and relieves stiffness, inflammation and pain in the lower back.
It specially recommended for
Acute and chronic back pain
Muscle tightness and spasm
Sciatica
Bulging disc
Vechukett
Vechu kettu is a warm medical paste applied over the affected area, covered with herbal leaves and then bandaged with cotton cloth. It nourishes the tissues relieving localized pain, swelling, inflammation, strain, sprain and joint injuries.
Bandana
Bandana means different types of bandages, specially for dislocation and fractures.
Kalaripayattu & Body Flexibility
It is difficult to describe Kalaripayattu techniques on paper as it is a combination of so many movements together.
It is a core discipline which involves a series of jumps and moves. It is one of the oldest martial art forms in India. Now people starts to learn the tremendous benefits, it can have on ones body and mind.
The practice of martial arts Kalaripayattu techniques results in increased agility, suppleness apart from the ability to twist or turn the body in many ways and increasing your body's flexibility.
Following are the techniques of Kalaripayattu for getting good physical strength.
Maipayattu
Marichilukal
Kaikuthipayattu
Kalaripayattu & Body Flexibility
Maipayattu
This refers to exercise that use the body, including specific exercises for legs, hips hands and the upper portion of the body. These movements are all designed to help one to achieve maximum physical fitness and agility.
Marichilukal
In this the training comprises of acrobatic exercises which include flying leaps and kicks.  This helps tone the body and improves your agility and reflexes. These techniques include whole body workouts breathing techniques and acrobatics.
Kaikuthipayattu
This is the exercise with hands on the floor, which helps to improve the strength of hands.
There are so many techniques and exercises in kalaripayattu to attain good strength and flexibility of the body.  If kalari was as common as your regular run on tread mill, it won't raise as many eyebrows! So if you wants to change the way you work out getting  bored of the regular stuff and challenge your advance level stamina. Try this ancient routine and improve your fitness level.
Advantages of Sports Injury Management by Ayurveda
The main aim of Ayurvedic Treatment is to regain physical fitness so that sportsman can go back to the field as early as possible by:
Pain alleviation
Correcting disability
Strengthening joints and other structures
Improving function & performance
Diet & Ayurveda
The science of Ayurveda teaches that right diet is the foundation of healing. Ayurveda is centered on three bio-energy forces called doshas-vatha, pitta, and Kapha. Each person has a unique combination of three doshas, and that composition is called one's prakruti.
Each meal's menu is specially prepared for each guest in consultation with the Ayurvedic doctors and nutritional experts to supplement the treatments and enhance results. Most of the fresh vegetables and herbs come from our Organic Garden and the water served is infused with herbs to fortify its dietary values.
Team of Doctor's
Dr. C.B Sajeev Kumar BAMS, MD, PGDY
Specialization: Kalari (Martial Arts) for Sports Medicine, Marma, Salyatanthra (Surgery, Orthopaedics, Neurology, Vital points (Marma), Acupuncture, Don Therapy, Yoga, Meditation, Para surgical methods, Chiropractic, Physiotherapy.
Patents & Publications: Management of Dushta Vrana (Ulcer) with Rasasinduram (A Mercuric compound) internally and Rasakarpuradhi Dhoopanam (Another Mercuric Compound used as Fumigant) externally. 1989, University of Kerala
Conducted Ayurvedic Sports Medicine Research at various sports centers of Kerala for performance enhancement
Developed of various ayurvedic sports medicine formulas and treatment modalities for endurance enhancement of various sports events and injury management, prevention of injuries and rehabilitation.
Expertise in Implementing traditional methods for sports nutrition, exercises, and psychic conditions.
Serving as Specialist Medical officer (marma), the Specialist Senior Medical Officer (marma), Chief Medical Officer and District Medical Officer at Indian Systems of Medicine, Govt. of Kerala from 26 years
Member of Council of Indigenous Medicine Travancore-Cochin Council, FRCA ( Fellow of Royal Council Ayurveda)
Dr. Arun Rajendran BAMS, BPT, CMP
Specialization: Sports Therapy, Sports Physiotherapy, Marma Chiktsa, Yoga
Served Sports Ayurveda Research Cell (SARC), Idukki as Project medical officer.
Deputed in medical teams for various, State and National Athletics and sports events.
Certified in Dry Needling Therapy and Physio needs.
Certified Mulligan Practitioner / CMP, MCTA, 6 DEC 2011
Dr. Mar Abraham Cherukattu BA, MA, BD, M.Th, RMP - Alternative Medicine (Pranic Healing)
Specialization: Pranic Healing, Yoga & Meditation, Mental Health & Alternative Healing, Counselling, Naturopathy, Spiritual Business Management, Reiki Healing
Awarded Best Pranic Healer of the Year 2016 and Fr. George Kolath Memorial Award 2006
Registered Medical Practitioner of Alternative Medicines Certificate: Indian Board of Alternative Medicines: 18th February 2000
Certified in Reiki Healing 1st and 2nd Degree: 10th March 2001
Completed course in 'The System of Indigenous Medicine – Herbal' - Jan Shikshan Sansthan: 31st August 2012
Organises awareness programmes on alternative healing systems
Dr. Ajitha Sunil Babu BAMS
Specialization: Panchakarma (Detoxification Programme with combination of specific Ayurveda preparations), Ayurveda Netra Chikitsa (Ayurveda Ophthalmology), Fracture Management, Diabetic Complications, Muscular Dystrophy, Cerebral Palsy
Bachelor of Ayurveda medicine and surgery.
Belongs to a traditional family of Ayurveda practitioners who have been practicing it for the past four generations.
Graduated from Rajiv Gandhi University of Heath sciences and studied in K.V.G. Ayurveda medical college.
Member of Council of Indigenous Medicine Travancore-Cochin Council, FRCA ( Fellow of Royal Council Ayurveda)
Research and development under AYUSH for the preparation of Ayurvedic medicines related with EYE care in Ayurveda
Dr. Midhu Bhaskar BAMS
Specialization: Therapeutic Marma, Acupuncture, Dorn Therapy, Yoga, Meditation, Panchakarma (Detoxification Programme with Ayurveda Preparations), Knee Injuries, Frozen Shoulder and Injuries, Muscle Pain & Swelling, Plantar Fasciitis, Tennis and Golfers Elbow, Low Backpain and Sciatica, Cervical Spondylitis
Bachelor of Ayurveda Medicine and Surgery
From a traditional family of Ayurveda practitioners engaged in the science for 7 generations
Graduated from Mahatma Gandhi University of Heath sciences; studied in Ayurveda Medical College, Nangelil
Member of Council of Indigenous Medicine Travancore-Cochin Council.
Certified in the art of Marma from Thirumoolar Varmology Institute, Coimbatore.
Dr. Isha Arun BAMS
Specialization: Therapeutic Marma,Yoga, Meditation, Panchakarma (Detoxification Programme with Ayurveda Preparations), Knee Injuries, Frozen Shoulder and Injuries, Muscle Pain & Swelling, Plantar Fasciitis, Tennis and Golfers Elbow, Low Backpain and Sciatica, Cervical Spondylitis., Ankylosing Spondylosis, Hemiplegia, Carpel Tunnel Syndrome and Ankle sprain.
Bachelor of Ayurveda Medicine and Surgery
Graduated from Rajiv Gandhi University of Heath sciences; studied in SSRAMC and Hospital in Belguam
Member of Council of Indigenous Medicine Travancore-Cochin Council.
Certified in the art of Marma from Agastya Ayurveda, Kottayam
Specializes in treatments to enhance Self confidence and concentration
Click here

to view our wellness team
Summer rates Valid from 01st April 2018 till 30th September 2018.
Rack Rate
7 Nights
14 Nights
Villa Types
Single
Double
Single
Double
Akund Deluxe
198450
242550
357210
436590
Mallika Pool
271950
316050
504210
583590
Zukra Pool
330750
374850
714420
793800
Semantha Pool
382200
426300
724710
804090
Punag Pool
492450
536550
945210
1024590
The given rates are in INR. The above mentioned rates are exclusive of GST taxes.
Winter rates valid from 01st October 2018 till 31st March 2019.
Rack Rate
7 Nights
14 Nights
Villa Types
Single
Double
Single
Double
Akund Deluxe
270480
321195
486864
578151
Mallika Pool
323400
367500
599760
679140
Zukra Pool
433650
463050
867300
926100
Semantha Pool
531305
608580
1004157
1095444
Punag Pool
698250
727650
1396500
1455300
The given rates are in INR. The above mentioned rates are exclusive of GST taxes.
Awards & Recognisations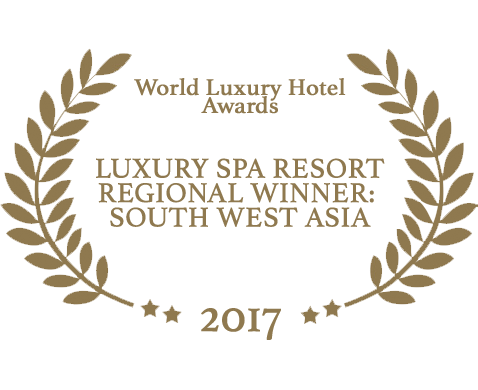 LUXURY SPA RESORT
REGIONAL WINNER: SOUTH WEST ASIA
World Luxury Hotel Awards 2017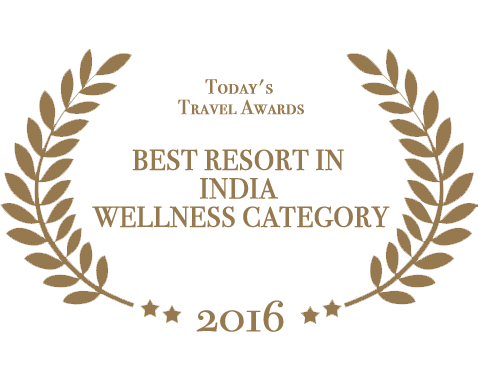 BEST RESORT IN INDIA - WELLNESS CATEGORY
Today's Travel Awards 2016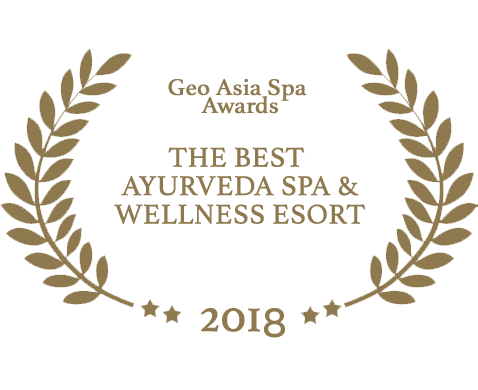 THE BEST AYURVEDA SPA & WELLNESS RESORT
By Geo Asia Spa Awards for 2013, 14,15,16 & 17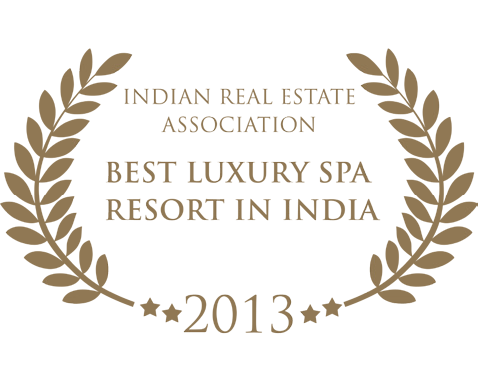 BEST LUXURY SPA RESORT, INDIA
Indian Real-estate Association 2013
Travel Awards 2012 Business Destination Magazine, UK